I was clueless about the world of Digital PR and what it entailed – until I landed in the industry myself.
Unlike its traditional PR counterpart, Digital PR is also conducted with SEO in mind and one of the key aims of outreach is to gain linked coverage on online news publications.
However, by combining the creation of newsworthy content campaigns with the importance of building brand awareness, we are able to gain linked client coverage on these platforms.
What I wasn't initially anticipating within the field is the creativity, anticipation and thrill it entails when conceiving campaigns, writing pitches and landing links.
In this article, I'll be drawing on my four years of experience and knowledge of the industry, plus that of other experienced industry professionals, to deep-dive into Digital PR. We'll explore why it's so important and how much of a difference it can make to clients, what makes a successful campaign and what changes we can expect to see this year.
So, whether you're completely new to the industry or are simply looking to learn more about what's working and what the future of Digital PR looks like, I've tried to ensure there's something for everyone here.
What is the purpose of Digital PR?
I've always believed that good Digital PR is beneficial for both clients and journalists. While an outreacher's main aim is to land linked coverage for a client, they should also provide the journalist with a story that is newsworthy.
Digital PR is about finding new angles surrounding day-to-day topics, or researching something that a journalist would never have the time to look into themselves.
For clients, there are myriad ways Digital PR can help their website. Alex Jones, PR Director at Motive PR, shares the benefits he believes that digital PR adds:
Increasing your visibility in search engines by getting quality links back to your website
Gaining referral traffic for your site
Building awareness of your brand/products/services and boosting your credibility
Driving engagement from your target audience
Boosting business leads, conversion rates and sales
When boiled down, there are two main goals we are trying to achieve for clients when conducting Digital PR projects.
These are:
Improving a client website's rankings
Improving their brand awareness and reputation.
Louise Parker, PR Director at Propellernet, echoes this, "For me, digital PR is measurable PR that is created with SEO goals in mind. It's a tactic for link-building, that builds high authority links, but it's also a way of building a brand and attracting the right potential customers."
Supercharging SEO
One of the key aims of outreach is to build links to your client's website from a range of online news publications. Put simply, this is because when you build links from these high-authority websites, it leads Google to believe that your website may be authoritative and full of useful content, too.
As these links grow, through outreach efforts, your client's website ranking should start gradually rising in the Search Engine Results Pages (SERPs).
This is a great way to improve organic search visibility and should, in turn, increase revenue. It works exceptionally well when run alongside other efforts such as technical SEO and content optimisation.
When it comes to building links, Digital PRs are often tasked with acquiring linked coverage on top-tier publications in the sector, be it general news or a specific niche.
Examples of top-tier publications include:
The Guardian
BBC
The New York Times
CNN
CNBC
USA Today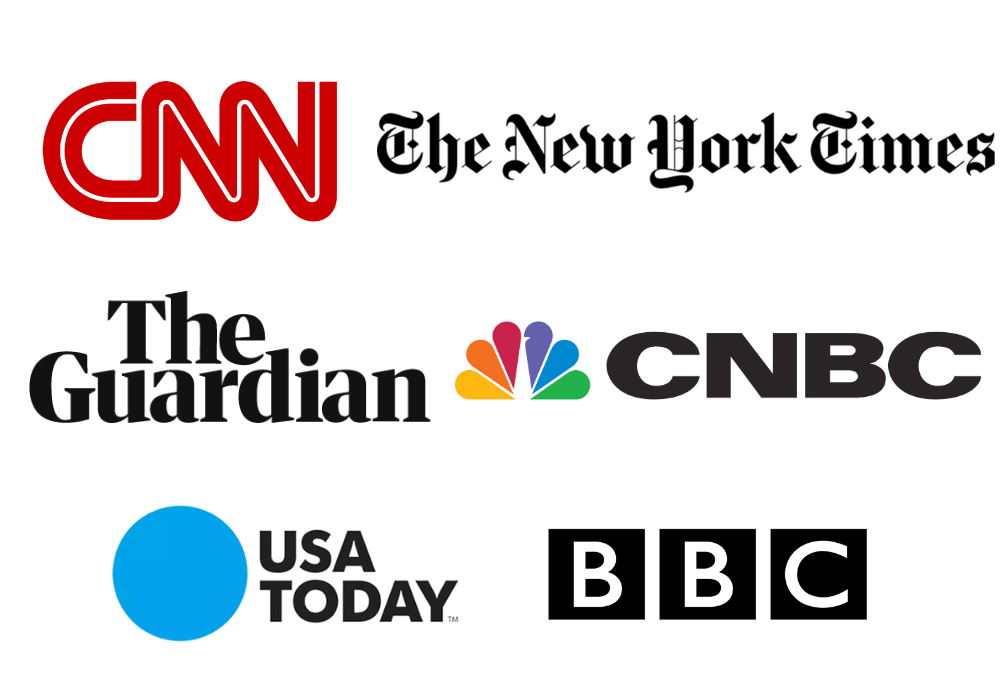 However, relevance is also key so when you're outreaching. So if you are working on a Lifestyle or Entertainment piece, for example, you may instead be targeting pubs like these:
Buzzfeed
People
Cosmopolitan
Glamour
Bustle
Marie Claire
Landing the 'right' links
As Aira co-founder Paddy Moogan says, in The Link Building Book he created, "One part of the Google algorithm is the number of links pointing at your website, but it would be foolish to make this a raw number and not take into account the quality of those links. Otherwise, it would just be a free for all, and everyone would be trying to get as many links as they can with no regard for the quality of those links."
Relevancy with link building has become increasingly important since Google's 2018 algorithm update. According to John Mueller, Google's Senior Webmaster Trends Analyst, the update had a key focus on the relevance of an overall website's content.
However, in terms of Digital PR many agencies transformed their tactics to ensure that campaign concepts are not as distanced from the client's core area as they once were.
This is because we are now being encouraged to acquire links from more relevant publications (as a whole) and sections of publications. For example for a client that is a personal banking app, the main priority is now landing links from Money sections rather than Lifestyle, an alternative that may have been fine previously.
That is not to say links from other sectors or less relevant publications are detrimental. However, creative content surrounding your client's core areas of expertise should be prioritised, in order to attract coverage on the right sectors and publications.
Paddy Moogan sums the shift in focus in terms of our KPIs in his link building book revealing, "As search engines have become more advanced, they have been able to expand the link-related signals they can use beyond raw numbers. Search engines can look at a number of factors in combination to give them an indicator of quality… There is something important to remember here, though: it isn't really the link itself you care about (to a certain degree). It is the page and the domain you are getting the link from which we care about right now."
So, given the need for relevant and high-authority links, targeting link acquisition from the websites of news publications makes what the industry does work remarkably efficiently.
Why is Brand Awareness important?
While a focal point of outreach for clients is to build a multitude of links for their website, we also aim to enhance our client's authority and visibility.
This can be a rather tough balance to strike as any campaigns or quotes that are too branded or brand-centric are likely to be snubbed by journalists. However, 'brand' usually comes first with clients' internal PR and marketing teams.
Therefore, it takes time, education and patience to help new clients, who aren't as familiar with SEO practices, to understand this.
Your dream scenario and target outcome is producing a campaign and pitches that are relevant to the client, in terms of subject matter and being of interest to its target audience. However, these should also be useful to journalists for their newsworthiness and view-generation.
As with traditional PR, the more people that see a client's name in (positive) news stories, the more chances the brand has of attracting new potential customers.
While our goal with clients is to secure linked coverage, I created the diagram to illustrate how all of the combined aspects of Digital PR can increase your client's revenue.
How can I build Brand Awareness?
Something I've noticed a lot with anyone who is new to campaign ideation (myself included in 2017), is that it can be very easy to get too absorbed in the brand/niche element.
And while it is a relatively easy mistake to make, it can be extremely costly in terms of a lack of overall campaign success.
To avoid this, remember that a campaign should have multiple angles and layers that can be delved into by outreachers. So, if you've got a one-track mind when conceiving campaign concepts e.g. thinking that a piece for a fashion brand has to be about clothes, solely, you're going down the wrong path.
Instead, think of the bigger picture. Allow your mind to wander and think of every element surrounding a topic. This takes practise, but my personal advice would be to take a break from your tasks, pick up your notepad and get brainstorming initially. I've produced an example below, to show my methods.
You may not use any of the concepts from this exercise in your final piece, but they may stem thoughts that you turn into ideas.
The variety of aspects you look at around a topic, such as fashion, are still often in the realms of what your client can offer expertise in. Even when they are not promoting exactly what they specialise in.
For example a campaign about exercise and mental health for a sportswear brand could holistically discuss the benefits of exercise and good wellbeing, without it being about their products or sportswear directly.
This concept would still highlight them as experts, but could also potentially make them a go-to for workout gear when readers are inspired to exercise by the article or campaign.
In terms of preparing pitches, there's a fine balance between ensuring the client is credited in coverage and making the email too brand-centric.
Where possible, brand awareness is something I kept in mind during outreach and this can be done in two ways.
1. Highlighting the client and their purpose early on.
For data campaigns, I would do this in the second paragraph of my email to give more context to the piece and why it was conducted.
For example, I would say "The study of 2,000 adults, by personal banking app [client name], was conducted to discover where in the UK Brits are the best at saving."
I find that one snippet about the client and what they do suffices, both in terms of alerting the journalist of who they are and avoiding the pitch becoming too commercialised.
Keep information about your client to a minimum, but make sure there's enough of a correlation between them and the campaign purpose or it'll also raise suspicions as to why the piece was conducted.
2. Including expert commentary from the client
When you conduct a campaign, it's typically within the realms of what your client does, which also means they are likely to be an expert in the field.
To increase your chances of a client mention, you need to give the journalist something of value for them to work with. The campaign itself should do this, but also including expert commentary and insights to complement it within your pitch certainly helps.
I've discussed the value of expert commentary for journalists in this piece. However, in terms of client value, it is essential to strike the perfect balance between brand promotion and giving the journalist plenty to work with in order to land a mention in the article.
The dream scenario for campaign coverage is along these lines:
The article features who the study was conducted by. And, while it is good journalistic conduct to credit your sources, I've had many instances where they credit in the form of a link within body copy rather than sharing the brand's name.
This is still good, as you've received your link and fulfilled the purpose of your outreach. However, you can increase your chances of building brand awareness within the piece by including informative expert commentary from your client.
When you combine a good story with a pitch featuring useful expert commentary, that isn't too brand-centric, not only do you get this…
But you'll also end up with a second brand mention and your client's expert spokesperson featuring in the article, too.
Again, the aim is to think like a journalist and understand the craft of writing an article. Once you understand they need:
Quotes from experts
Statistics
Case studies
Stock photography (where possible)
You can start adding this to your pitch toolkit to boost your chances of success.
The strategies behind conducting effective Digital PR campaigns
We now know the essential purposes of conducting Digital PR, but there are an array of methods to produce an effective Digital PR campaign. I'll take you through varieties of formats and ways in which campaigns have changed over the years.
Newsjacking or 'Reactive' campaigns
We'll begin with the format that I, along with the experts I spoke to, believe will be the most popular in 2021: Newsjacking/reactive campaigns.
Defined as harnessing a current event or breaking story to promote your brand or products, Newsjacking is a tactic that has become increasingly prevalent within the industry.
With uncertainty still rife surrounding the pandemic, since early 2020 outreachers have had to be more versatile and adaptable than ever before.
Campaigns at agencies are often planned months in advance, which can be tricky at the best of times as you never know when a breaking story will take over the news agenda. However, the past year has meant we have all had to become far more savvy with our content and methods.
It can be carried out alongside larger campaigns and studies you run for a client, but I have also had smaller clients who ask me for this as their initial sole method of link building.
In her webinar surrounding the topic last year, BrandContent's Head of Social and Growth, Rachel Besenyei, said, "Newsjacking using social media gives your brand multi-level benefits including being more creative (and more visual), improving your brand's reputation, building out a unique tone of voice and driving organic traffic back to your site."
However, before you get to the stage of creating campaigns or sending out pitches, you need to have something to work with.
Discovering what to 'react' to
Whether you're new to the industry or not, reading headlines every morning and intermittently throughout the day should be part of your routine.
On a recent JBH webinar surrounding newsjacking, Digital PR Director Rebecca Mossand co-founder Jane Hunt also recommended listening to or reading news round-ups on websites, likeThe Week,every morning before work. The reasons this is so crucial is because it allows you to digest current headlines, discover stories you may not have even known of, and you may be more creative as you won't be focusing on work already.
I'd also recommend exploring BuzzStream's research lists feature, which allows you to pull in Google News results for a list of your chosen search terms. This can be extremely helpful for finding guidance with what sort of angles you should be looking into, seeing what has already been covered and what stories are emerging on a topic currently.
Once you've set your list up and filtered it to work for you, review it daily to see what stories are emerging in your client's niche and sector.
Producing a Reactive campaign
When you notice a story gaining traction in the media, try to ensure you're thinking about ways in which your client can align with it.
Side note: be tasteful about this! Don't encourage clients to be opportunistic when it comes to catastrophic events or sensitive topics. This can result in backlash or being blacklisted by journalists, plus it's insensitive.
This method can be executed in several ways, but it all relies heavily upon the news cycle and getting your timing just right.
Depending on the importance and impact of the story, there tends to be a 24- to 72-hour window for a topic, within which outreachers should strike. You have the opportunity to offer up your clients for expert commentary or to create a mini data piece on behalf of their client.
Again, in Rachel Besenyei's webinar she highlighted David Meerman Scott's diagram illustrating the 'life of a news story', and exactly where to jump in with newsjacking.
This highlights that the critical element of any reactive Digital PR outreach is quick turnarounds and taking action as soon as possible.
Of course, this can't work well or seamlessly without initial education from you to your client. So, when you begin working with them, take the time to educate your client on why these tactics help for link building and the fact that journalists have extremely short article turnaround times. Put bluntly, if your client can't get something together quickly enough, another brand or expert will!
If you know your client is slow with turning around quotes, draft up some for them in their tone of voice and then get their sign-off.
On news desks I have worked on, I typically had roughly 45 to 60 minutes to an hour to get a story out. Therefore, we don't have time to wait several hours or a full day for the turnaround of a quote in order to get our pieces published.
Reactive campaigns also require you to be prepared, where possible, in terms of major events in your client's niche. This can be along the lines of TV show releases, award ceremonies, marathon season, days of the year etc.
For example, for the final season of Game of Thrones in 2019, the industry rushed to find a golden angle that journalists would cover in an already-saturated topic. Creative colleagues at Verve Search decided to look into the 'most Instagrammed filming locations' for a gambling client. This soon landed them links on publications like Mental Floss, Lonely Planet, The Daily Dot and more.
More recently, JBH's Digital PR Director Rebecca Moss shared this post on LinkedIn about one of the agency's existing campaigns being pivoted to an angle surrounding the hit Netflix show Bridgerton.
The key for reactive campaigns like this is to keep concepts simple and to ensure there's minimal resources needed. They aren't always guaranteed to work and you don't want to waste a week's worth of valuable outreach days for a campaign that may receive zero links.
I spoke to Rebecca Moss about her strategy and she explains, "Everyone was bingeing Bridgerton over Christmas and I knew that I wanted to do something around the trend. Though I wasn't sure what would get cut through."
Highlighting the importance of client relations and education, she revealed that the idea was conceived when she and her client were discussing concepts on Slack.
From there, she worked on an angle to make the existing campaign align with the hot topic (Bridgerton) by valuing the properties from the show at today's value. Thanks to this pivot, along with an existing historic building value estimation methodology, the piece was simple and easy to turn around.
And why did she think it would work? The PR pro gave the following reasons, which are helpful for any Digital PR looking to evaluate the viability of their next reactive piece:
See if it has been done in the ideation stage – this angle hadn't (yet)
Understand trends of what journalists like covering repeatedly. In this case it was property valuations of "well-known or topical buildings"
Go back to basics and see what's worked well for you before, then do it again!
Make sure it can be produced and outreached quickly – they managed to do the entire campaign in under 48 hours.
If you and your agency aren't doing this already, keep these factors in mind:
Think about how you can pivot existing campaigns with some additional research and commentary
Alternatively, conceive a new campaign/piece of data research that takes hours rather than days to pull together
Have a strong relationship with your client, who'll trust you to act fast
And you could end up with results like this for your client brand on the likes of Vogue Australia, House Beautiful and House & Garden.
Don't be afraid to be adventurous, either. These concepts would have worked equally as well for clients in the realms of property, house insurance, travel insurance, travel, finance and more.
Creativity is key. Reactive outreach and campaigns have been a strong theme amid the pandemic, and the industry nailed this in 2020.
Examples that were particularly prevalent and successful, in terms of links, included fun Zoom backgrounds (from popular TV shows, beaches around the world etc.), armchair travel experiences and dream jobs campaigns (such as being paid to watch movies from home).
The method requires the ability to cut through the noise and see what isn't getting attention… yet.
However, if you're pulling blanks don't fret. You could get some inspiration about what angles journalists are looking to cover from the next method.
Responding to #JournoRequest
Aside from keeping an eye on the news, I recommend that outreachers should have a Twitter presence. It doesn't matter if it's an account you rarely use, it'll work for the purpose of reactive Digital PR. You don't have to have a large following (if any), but it can be great for jumping on a story quickly to land some links.
Take sporadic breaks throughout the day to scroll through #JournoRequest on Twitter to see if any of these are relevant to your client.
Or, setting up a column in TweetDeck to monitor client keywords.
When you're not scrolling, you can also set up Twitter-to-email-alerts on If This Then That for topics mentioned within the 'journorequest' hashtag that are in the realms of your client's keywords.
If you spot a request that fits your client's expertise, tweet the journalist instantly to let them know you'll be getting in touch shortly.
This is where educating your client becomes more important than ever. Inform the client of the request and ask someone from their team to prepare a response as quickly as possible (within 30 minutes). If they're notoriously slow, prepare your client's comment for them and send it over for rapid sign-off.
Get back to the journalist (via email) with the quote and ask them:
To get in touch if they need anything else
If they can credit your expert via a link to the website
If you haven't spotted any requests that immediately appear to be of relevance to your client's area, as cliche as it sounds, try to think outside the box.
Featuring your client or their spokesperson as a case study for stories like the one above could, in the best case scenario, lead to a link when the journalist refers to them in the piece e.g. Ellie Wright, Marketing Officer at Made Up Company. However, even if there isn't a link given, it's still a brand mention.
There are other benefits, too, including the fact that you have helped a journalist out, meaning they may be more susceptible to featuring you again in the future.
Additionally, it can also be a great place to follow-up with further press releases in the future such as, "Hi again X, we spoke when I featured in X article. I was wondering if the study below would be of interest to your readers?".
Expert tips pitches
Another newsjacking method that often results in success is preparing 'expert tips' press releases surrounding elements of a breaking story or a hot topic in the media.
Of course, your client must be relevant in some way to the topic. Therefore, if it's in response to news about housing prices and your client is a fashion brand, steer clear. However, if they're an interior design company, a banking app, a property brand, a construction company etc. they could have plenty of valuable advice to share.
Unlike responding to calls from Editors, in this instance you are using initiative and minimal client time to try and inject your client's expertise into the news agenda.
Merely put together a pitch with a subject line similar to '8 Expert Tips to Easily Boost House Value During Lockdown' or 'Nutritionist Shares 8 Easy Veganuary Recipe Hacks'.
Numbers often help as this can inspire an article headline of their own. The journalist also knows that they're getting someone with expert knowledge of the area. Plus, you're highlighting the topic keyword clearly.
In the pitch itself, keep it simple with one introductory line of why you are reaching out to them and ideally include a stat, or hinge it to a recent announcement.
For example, "While a record-breaking 500,000 people signed up for Veganuary this year, it isn't always easy to adopt a plant-based lifestyle."
"Therefore, Nutritionist Jemma Riordan MS has shared eight of her failsafe tips on how to make a tasty and sustainable transition."
It's to-the-point, relevant and worded in a way that will lead journalists to believing it is reliable and helpful to their readers. When carried out correctly and efficiently, you can expect to see the following results for your client.
With reactive outreach, if it doesn't work, you'll have hopefully put in no more than a few days of work including research, prospecting and outreaching.
In comparison, other outreach tactics tend to take significantly more time to put together, and often have a lot more at stake in terms of production and outreach day-allocation budgets.
Infographics
The Cambridge Dictionary defines an Infographic as, 'A picture or diagram or a group of pictures or diagrams showing or explaining information'.
In the early days of link building, this was a hugely popular tactic used to get coverage on publications as it worked well.
However, journalists gradually began cottoning on to the link building method and it slowly became less frequently-used.
In recent years, I have still seen these being utilised as an effective outreach asset. Though, they do need to be backed with much stronger research and data than what was previously passable.
An agency that does this to an excellent standard is Neomam. The team has created an array of thought-provoking and insightful pieces that consistently land links. This includes the piece below 'The Sleep Routines of 50 Successful People'.
Conducted for a mattress firm, the purpose behind the campaign (according to its project page) is, "An improved sleep pattern can transform a struggler into a superstar. We wanted to illustrate this with some major league examples, so we researched the sleep patterns of famous high-achievers in recent history."
Not only is the piece visually appealing, but it is also data rich. Ensuring it has every possible opportunity for success, it features an array of celebrities and people of note to allow it to appeal to a range of publications/sectors.
Gisele Navarro, CEO of Neomam, explains, "Infographics allow us to compile large amounts of information and present them in an easy-to-digest way."
"The fact that journalists expect a lot more from them today just elevates us as content creators whilst making the barrier to entry higher as nobody is willing to put in the effort."
She also shares what her creative team lean towards infographics for:
Lengthy how-to guides where step-by-step visuals are key
Highly-researched guides on a specific topic (e.g. Impostor syndrome) where we want to offer practical tips that readers can apply right away
Round-up guides where we collate routines, quotes and advice from multiple individuals
Actionable flow charts where readers will self identify and then receive advice based on their results
Showing the design evolution of an item within a timeline
So while you shouldn't rule them out, remember that they need to up-to-scratch in terms of the value that they offer to readers. Cool and pretty imagery simply won't cut it, anymore!
Interactive Campaigns
As infographics became tougher to get coverage with, industry tactics began changing quite dramatically and campaign execution was often on a larger, more technically-complex scale. When I started at Verve Search in 2018, I had never (knowingly) seen an interactive campaign page before, but was quickly familiarised with them.
These are often data visualisations, quizzes or tools that have elements, which allow users to interact with them e.g. by entering the name of their town to discover how safe their area is or the ability to compare two cities of their choice on a national ranking table.
Below is an example of a data visualisation piece that I worked on in 2018, which looked into speeding offences in a range of towns and cities in the UK.
The tool allowed you to see the stats in various categories, while also being able to have an overall glance at each place individually, too.
It had national and regional appeal due to the data splits, along with the intrigue people have about road safety. However, you may be wondering why this format of execution works.
Why and how do they work for link building?
When outreaching these campaigns, we share plenty of relevant data from the piece with publications, but it's impossible for both the pitch and the journalist's article to include all the data.
Therefore, the reason for these pieces is because they provide the journalist with an asset that allows users to explore the data further. And this is what should also hopefully encourage writers to link to it.
One of the most important things to keep in mind when creating these pieces is to ensure that they are multi-dimensional. By this, I mean your campaign needs to have various layers and angles to work with, rather than being too heavily-focused solely on the main aspect.
See the example below to get an idea of how to split your main concept up effectively.
The key aim of Verve's viral Profanity on Film campaign was to look at swearing within films by analysing scripts.
It would've been easy to simply look at the 'sweariest' films. However, relying on one angle, alone, is too risky.
Campaigns are costly due to production (developers, designers etc.) and resource time allocation. Therefore, if your main angle doesn't work out, that money would have been completely wasted.
So, take your concepts a step further to ensure you have multiple avenues for journalists to explore in order to maximise chances of success.
You should also aim for campaign appeal within an array of sectors to allow for the maximum-possible chances of coverage. So, with entertainment pieces try to weave in a travel angle or a money angle. For finance pieces, try and segue into a gender or education angle, too.
Due to interactive campaigns being costly to create, when they go wrong it can cause significant problems. Timing for outreach is extremely unpredictable, despite attempts to plan everything well in advance.
During my career in outreach, a variety of situations have caused timing delays including:
My own campaign research taking longer than expected
Major events including COVID-19, Brexit news, elections, royal weddings and babies etc.
Data or design errors that lead to other production factors being altered
Clients taking months rather than days to approve content, thus sometimes making it stale or leading to it getting pushed back in the production schedule
Many of these are unavoidable, but can severely hinder a campaign's success and lead to projects being shelved or scrapped entirely. Therefore, particularly in 2020, many agencies have pivoted to adopting newsjacking and reactive approaches.
However, to enhance your chances of creating a successful campaign, myself and the experts within this piece have reflected upon what we've learnt works for us.
What makes a 'good' campaign?
The industry has changed significantly from when I entered it to present day. With that, what goes into making a successful campaign has changed, too.
What once was a failsafe method or format, can now be extremely hit and miss. However, trends from yesteryear are also making a comeback, too.
The key thing that this tells us is that we have to be ready to adapt. And not just ready, but also attempt to predict and try new tactics that'll work before they become popular/over-saturated.
While it isn't always successful, if you have the time or perseverance, trial and error is helpful and there's a chance it'll pay off.
For example, at Verve with a campaign that had gone stale, I drew inspiration from my journalism experience to revive it.
I knew that quotes helped me to publish stories faster as I would then have less lines to fill (a story was 12 lines at OK! Online). With this in mind, I started adapting 90% of my pitches to include expert commentary (see the process in point 5 of this article). This could be from the client or from an expert that could assist with individual angles from my campaign.
The change led to an increase in the uptake of my pitches and was a tactic that the outreach team were encouraged to use, too.
So, never be afraid to change things up within your personal approach and that of your team's. A good manager will always encourage you to do so.
However, regardless of what changes within the industry, here are a selection of elements that I believe are important to keep in mind when conceptualising campaigns:
Evoking emotion
A journalist needs clicks from their headlines and the stories they share on the publication's social media platforms. A strategy that has worked well is evoking emotions from readers.
We've all seen these methods utilised when scrolling through Facebook or Twitter, that lead us to tagging our friends or sharing the article.
Nostalgia, shock/surprise, anger and sadness are often extremely successful when it comes to emotions that do this.
Rachel Ellen Pugh, Shopping and Money Editor at Manchester Evening News, regularly receives millions of views for her stories and has utilised these methods for years. She says, "Headlines can often be the most important part of a story when it comes to securing reader engagement and ultimately, clicks. I look for stories that will pack a punch in the headline. Are readers going to be angry when they read it? Will they be sad, want to share it with their friends, or will they just be intrigued?"
This is where I often initially failed with ideation. My concepts would raise some intrigue, but weren't strong enough to have viral potential or to lead a journalist to taking time out of their day to write the story. Over time, you learn to start thinking as a journalist and reader, but this takes training.
Be inquisitive. Take time to look through target publication headlines to analyse the language and formulation. For example, below are just a few of Rachel Ellen Pugh's recent headlines.
Upon reading the full story, you can sometimes realise that that element of the headline was far less dramatic than initially expected.
However, a writer's talent – and yours, when crafting subject lines – is finding angles that would have otherwise been overlooked.
In order to gauge what does and doesn't work, a top tip I've learnt from her is analysing the publications website and social media pages. From this, you should look into the audience response in the comments. This includes both the number of comments (the more, the better) and the reactions themselves.
Being informative
Many campaigns I have seen that missed the mark, often appeared to be concepts that people were too invested in to see that they lacked much information of use.
It's easy to get carried away with a concept that initially sparks excitement within you, but it's important to be measured in your response to that reaction.
I tend to write the core idea down e.g. 'most instagrammed locations in London', before writing bullet points underneath of what other avenues I can explore with the piece. If you struggle to take the idea any further and aren't able to add any viable layers, it might be time to shelve that idea.
Your piece should be something insightful that gives readers new information or a new take on a topic.
For example, when consuming TV shows we're often focusing on the episode at hand rather than the show or genre holistically. However, successful Digital PR campaigns that I have seen or worked on take this one step further, by looking into niche aspects such as mortality rates, minutes the characters are on screen for, locations etc.
You should always try to ensure that a journalist and readers come away with more knowledge than they had previously.
Having viral potential
I'll start by saying this is not the be all and end all of a campaign. Though it would be nice if every piece could get 50 to 150 links, this can't always be the case. In fact, according to research and what Shannon McGuirk highlighted in one of my favourite Digital PR talks, "The majority of campaigns are getting 1-20 links."
In recent years, it's become common to see threads littered with how successful agency campaigns have been on Twitter. Peoples' minds work very differently, so while this may inspire some to push harder with their outreach efforts, it can also be extremely demotivating.
It's important to remember what Shannon McGuirk pointed out in her talk, "We are giving the impression that we don't have campaign fails. We are putting too much pressure on ourselves and newbies in the industry. We are normalising the idea that each campaign launched must get 100+ links. We're setting unrealistic expectations and KPIs. We know 'steady performers' can be effective, we should celebrate the impact and learn from them."
However, when conceptualising and researching pieces, what you can do is to think about what you can add to make them go the extra mile. Utilise Digital PR tools like BuzzSumo to see what content is currently performing well or tends to perform well for topics you're ideating for, which you can read more about here.
As suggested previously, look at what's performing well on publications' social media pages – social media shares and engagement are a great indicator of a viral story. Additionally, keep an eye on your topic keywords on Google News, which will allow you to see what stories are being covered by multiple publications rather than just a few.
Some of the most successful viral PR pieces can be extraordinarily simple, and that's the beauty of them. The lack of complexity allows audiences of all natures to engage with it, broadening the appeal of the piece and allowing it to reach far further than most.
Back to Verve's Profanity on Film. At the heart of it, it is a simple concept: looking into swearing on screen. Their methodology? Scraping and analysing over 3,000 film scripts using a seed list of swear words from UK communication regulator Ofcom.
We've all watched many films in our lifetime, and have probably thought of film-related campaigns where we end up getting sucked into hunting for in-depth data and angles.
Sometimes, people merely want a little excitement injected into their everyday and the more surprising the data, the better.
The results? Hundreds of linked pieces of coverage and an Instagram post on the most profane actor Jonah Hill's Instagram feed!
What is the future of Digital PR?
A question that comes up regularly within the industry is where Digital PR is heading.
In my opinion, along with that of the experts in this piece, and guests on webinars I have watched in 2020, there is a unanimous view that reactive Digital PR is a trend that won't be slowing down in 2021.
Personally, I believe this stems from the rapid adjustment and adaptation to outreaching amid a pandemic, along with budgets often not being quite where they once were.
These changes in the industry have often forced agencies to adapt their outreach techniques and formats of campaign execution.
Hana Bednarova, Director and Founder ofBednar Comms agrees, saying, "The majority of campaigns moved to a reactive style, which were created very quickly to react to the current climate. It showed the need for being able to adapt, change angles and quickly react, and I think this will carry on in 2021."
On campaigns she saw in 2020, Louise Parker says, "I'd say the best campaigns have been the ones that are quick and reactive or flexible."
Alex Jones concurs that this trend is something that will be around for a while, "I think that there will be more focus on reactive tactics such as newsjacking, rather than planned tactics. Mainly because the news agenda is moving so quickly at the moment, we need to be agile with the stories we create and outreach."
We, as an industry, quickly learnt that we were no longer able to solely rely on carefully-planned-out production scales.
Another factor that I think came into play is, with journalism teams shrinking due to many being put on furlough or being made redundant, writers needed assistance more than ever.
And reacting quickly to requests on Twitter by providing expert commentary from our clients, or even case studies, was and continues to be an excellent way to do so.
However, I also believe the growth in popularity for smaller reactive pieces also comes from clients being more cautious with their budgets amid the uncertainty. The shift leaves them less willing to splash out on large-scale interactives, which forces agencies to get creative.
Many of the reactive pieces I saw in 2020 were in the form of blog posts on the client's site, rather than large-scale interactives. Such as this piece from Lensbest.de, which received plenty of global linked coverage.
Other than budget allocation used for the research, copywriting and outreach, this can cost the client nothing, but can reap major rewards.
There is certainly still a place for large-scale interactive pieces and evergreen concepts, but I now believe agencies need to have a balance of both in order to remain competitive and deliver results.
In an industry that is regularly being forced to grow and adapt, it is crucial to constantly be thinking like a journalist. Keep an eye on reporting trends that you have an inkling are forming and try to cater to that as quickly as possible, #journorequest or not.
Using our initiative is a key method to survival in what is becoming a saturated industry. Hana Bednarova says, "The number of existing SEO agencies that offer Digital PR, and new agencies specifically offering Digital PR, has gone from very few to hundreds."
In early 2020, it was also fascinating to see how agencies began adapting to pitching in a pandemic when there were just a handful of headlines about the virus, to it taking over the news agenda.
With no guidelines and examples to follow, it was every agency for itself, muddling through and trying to discover ever-changing winning formulas for coverage.
So, while improving SEO and brand awareness for clients are at the crux of what it is, I believe Digital PR is an industry fuelled by passion for what we do day-to-day, which leads us to wanting to learn as much as we can about it.
I'll make it clear that it should never become an obsession that you revolve your life around. However, to make it in Digital PR, there should be excitement when you land a new link or a spark that ignites when you begin formulating a campaign concept you think may work.
Try to consume news from a range of sectors when possible, be open to taking chances with new campaign and outreach methods. Try to consume information and draw inspiration daily by watching the talks and reading the Twitter feeds of industry experts.
I'd like to finish by saying a big thank you to the experts that assisted with this piece Louise Parker, Alex Jones, Hana Bednarova, Gisele Navarro, Rebecca Moss and Rachel Ellen Pugh for sharing their Digital PR and Journalism insights.